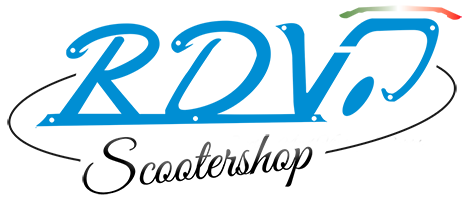 ancora solo €
Spedizione gratuita a partire da €:
Il tuo ordine è senza spese di spedizione!
Spedizione gratuita a partire da €:
(0)
Discount for associated ASI FMI Vespa Club Italia
About us
Marco Mazziotta's "RDV Vintage e scooter parts" dates back to 2010; it is a genuine Italian company, set up in Forlì, in the heart of Emilia Romagna.


An overwhelming passion drove Marco Mazziotta towards the decision to undertake this great challenge (just at the beginning of the global crisis that has affected the world economic system since then). The company's founder has been personally restoring a huge number of Vespas in minute detail; what's more, he's been strongly influenced by studies and researches about each of the 90's Vespa models and spare parts, which have been on the market since the beginning of the '40s.


1946 was the year of the design of the first Vespa, more precisely on 23rd April, commissioned by the aeronautic engineer Corradino D'Ascanio.This company aims to share this Italian myth with all passion-driven Vespa fans, with a transparent service for customers about spare parts for Vespa Piaggio.


This company works with several business partners, which manufacture spare parts using in many cases genuine moulds of that time: thus, we can guarantee products with technical features which are really similar to the original ones.


Vespa is an Italian scooter designed immediately after the Second World War. It has been able to revolutionize the world of means of transport, thanks to its versatility and reliability. This myth has managed to hold up all fashion changes, reinventing itself year after year, reaching the incredible number of 15 million Vespa.

Speaking about fashion, you can find several types of gadgets, gift ideas and school stuff in our website, either matching current fashion and about vintage style, with caps, t-shirts, shoulder bags, lighters, mugs, calendars, vintage tin-plates, desk and bedside lamps and much more! In addition, there's a huge amount of material for children and teenagers, also for school (from the primary school to university). Pens, pencils, exercise books, block notes, diaries, folders, binders, rucksacks, many types of bags with several zippers and well finished inner parts. Everything can be seen on the website www.ricambi-vespa.it, section "Gadgets and gift ideas".


Wouldn't you like to be trendy and live the Piaggio myth wearing a cool t-shirt in your favourite colour and Vespa model? And what about a matching Vespa cap? Or wouldn't you like to drive your children to school carrying their rucksacks with Vespa Piaggio trademark and a Vespa model of the '50s? And, at Christmas time, giving a Vespa fan (either a relative or a friend of yours) a vintage desk lamp with the shape of a low light and the colour of a Vespa model?


Don't miss the chance to live directly or make someone else live the original Piaggio myth: Vespa!


Visit the website www.ricambi-vespa.it! Or contact us on the phone, our numbers are 0543-85540 and 338-9790319. Our fantastic staff of "I Ricambi della Vespa" by Marco Mazziotta is always ready to help you with patience and enthusiasm, with a lot of advice for all of your needs!


We are waiting for you!
Bye-bye