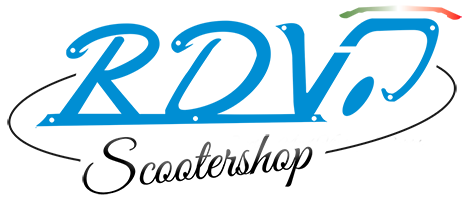 ancora solo €
Spedizione gratuita a partire da €:
Il tuo ordine è senza spese di spedizione!
Spedizione gratuita a partire da €:
(0)
Discount for associated ASI FMI Vespa Club Italia
Happy birthday Vespa!
Seventy years and not hear them.
Seventy years ago it was April 23, 1946 , and a patent was filed in Florence. It concerned a "motorcycle with a rational complex of organs and elements with a frame combined with mudguards and bonnet covering all the mechanical parts". The one who deposited it was a certain Enrico Piaggio , whose family airplane company was not so good, unlike Corradino D'Ascanio , an aeronautical engineer with little sympathy for motorcycles.

The beginnings in Pontedera
Fly with the wheels on the ground
D'Ascanio's first work on two wheels is the Mp6 , designed with the support of the designer Mario D'Este and with the intention of combining the "popularity of the bike and the elegance and comfort of the car". And then off the chain in favor of a direct drive load-bearing body ; yes to the change on the handlebars for a smoother ride and yes to a pantograph suspension borrowed from aircraft trolleys to facilitate tire changes . "It looks like a Vespa", Enrico Piaggio said as he saw the final result. And so was born the first vehicle capable of giving wings to those who guided it while remaining firmly on the ground. The historic Pontedera plant will assemble the first Vespa, the model was the 98cc , and has never stopped manufacturing it since. Initially, the circulation was 2000 copies, the following year there were already 8000 with the launch of the 125 which, as the advertisement stated, "is not a motorcycle, but rather a small two-wheeled car".
70 years of life "on the move"
Because a Vespa is much more than a motorcycle
In 1950, production began in Germany, in 1953 there were 10,000 service stations around the world and Vespa Clubs (which are currently estimated at around 60,000). From advertisements to models, the Vespa is undoubtedly one of those rare fruits of the modern era that have been able to welcome generational culture, status symbols and social changes for a very long period of time, and whose power is well still balance today. From advertisements ("Chi Vespa ea le mele") to models, she was able to fit into the collective imagination and to become a simple means of transport to a symbol of an era and personal identity for those who own one.
The 70 years of the Vespa are not simply the 70 years of a design invention, they are 70 years of growth, beauty and hopes , 70 years of change, of past history and bumps still to be overcome.
So happy birthday Vespa. Without you, life would have been less eventful!