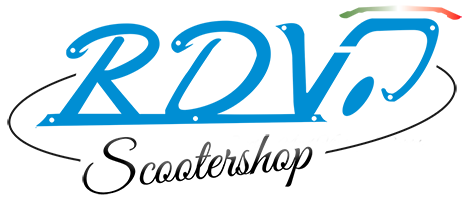 ancora solo €
Spedizione gratuita a partire da €:
Il tuo ordine è senza spese di spedizione!
Spedizione gratuita a partire da €:
(0)
Vespa cases: selection guide
Vespa offers a great choice when it comes to setting up your vehicle and in the case of top boxes it is no less.
The Vespa brand
The accessories
The trunk
Types of trunk
Tips for buying
The Vespa brand is now known all over the world: born in 1946 as a scooter model of Piaggio, this means of locomotion has over time become the symbol not only of entire generations, but also of a country, Italy, which today proudly exports it all over the world.
The Vespa is a "must", it is much more than a simple means of transport: it is a real design object that has also landed in museums of the caliber of MoMA in New York. Its bodywork, its bodies and its engines have been able to renew and improve and everyone can find their favorite Vespa model, which best reflects their personality. An all-Italian pride that continues to reap success after success.
Those who choose a Vespa know that of course the purchase will not be limited to just the means of transport: the Vespa is a lifestyle and with the scooter there are many accessories that will make its set up truly unique. From mirrors to stickers, from shields to stands and footrests, not to mention everything related to the rider's clothing: nothing in a Vespa is left to chance. Not to mention one of the most important objects that distinguish one Vespa from the other: the top box.

There are many types of vespa cases , with the same choice also based on the color of your vehicle. Everyone should choose their top box according to their needs and the use they intend to make of it.
A top case, in addition to being an essential accessory in some cases, can become a real design object thanks to the classic geometries that make it fascinating and always in step with the times: in this Vespa has been able to innovate and renew itself over the years and it is also for this reason this means of transport knows no crisis. In case it is used for work , with some models with large capacity and thanks to the seals that protect the interior from any infiltrations due to rain and other atmospheric agents, you can also transport sheets or electrical material, without anything to the interior is damaged or damaged. If, on the other hand, you do not want to take up too much space, you can opt for a smaller and less bulky model which in any case guarantees to be able to accommodate the essential or even a small shopping bag. There are many models of vespa cases, from rigid and chromed ones to soft ones and in typical vintage or retro style, as well as specific models such as the cases for vespa px or top case for vespa et4.
For the comfort of the passenger there are cases with backrest that thanks to the padding make it possible to lean on without incurring blows to the back in the event of sudden braking or acceleration: in this way even the second passenger can travel in comfort, feeling protected and firmly in place. saddle.
For the safety of the objects inside, each case is clearly equipped with a lock and key : two opening keys are provided at the time of purchase. It is advisable to always store the second key in a safe place, so that it can be easily found in case of need.
Useful tips
It is also advisable to always have the top case mounted by a specialized technician or at least by the dealer who sold it. It is important to always choose original accessories and spare parts, to avoid unpleasant inconveniences and risk compromising the beauty and functionality of an object as important as a Vespa.
A vespa top box can also be assembled independently , if you are not completely unfamiliar with do-it-yourself: it is not absolutely difficult to assemble it correctly, but you must still use the right precautions and have all the necessary tools with you. One thing not to forget, if you want to assemble the top case yourself, is to check at the time of purchase that all the parts necessary for assembly and listed in the assembly sheet are present.
Sometimes it can happen that a screw, bracket or some other piece can accidentally fall out of a damaged package. It is therefore good practice to check that everything is intact and that everything necessary for the correct assembly of the top case is inside.