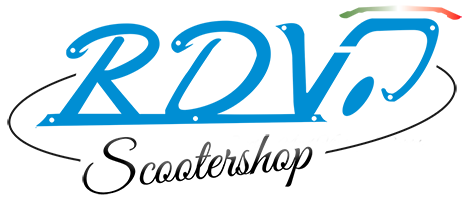 ancora solo €
Spedizione gratuita a partire da €:
Il tuo ordine è senza spese di spedizione!
Spedizione gratuita a partire da €:
(0)
Discount for associated ASI FMI Vespa Club Italia
THE 4 MANDATORY COMPONENTS TO BETTER DEVELOP YOUR VESPA
How to choose the best spare parts and accessories
The development of the Vespa is an act of faith and love for some and a blasphemy for others, the fact is that we at #RDV, loving the Vespa in all its forms, cannot fail to dedicate an article to a practice that accompanied generations and generations of Vespa riders. In this short guide we will therefore illustrate:
What is meant by "processing";
The 4 fundamental components to develop a Vespa.
What is meant by "processing"
Do you remember when the Vespa was lying in the garage as kids and you were fascinated by what was hidden under the dashboard?
That moment when your innate, spontaneous mechanical streak was pressing to go out and get you tinkered - no matter where, no matter how - to transform a practical fifty into an aggressive and unique car in the world, only yours? Here, let's say that processing the engine of a Vespa basically means 2 things:
Implement its features;
Customize it to levels that wouldn't be possible if you followed the house guidelines.
The 4 fundamental components to develop a Vespa
Just as shoes, bags, accessories and hairstyle are essential for a woman in the outfit, for a Vespa at least 4 elements are essential to ensure that an elaboration is worthy of being called such, and they are:
Thermal Groups
The Thermal Group is a bit like the heart of an engine: it includes the cylinder, the piston and the head. Still following the anatomical comparison, we can say that the cylinder is the part where the combustion process takes place thanks to the piston, which, moving inside, stimulates a reaction which in turn is managed by the cylinder head. Going to modify a thermal group means choosing components whose particularities can allow an increase of all these functions.
Mufflers
The muffler needs no introduction. Or at least, we hope so. Changing it means changing its battle cry: if you really have to process it, remember that its noise is an auditory signature recognizable from miles away. If your intent is to get noticed, with a suitable muffler you will surely hit the mark.
Carburetors
Wanting to use a poetic approach, the carburetor is the place where the air meets the mixture and strikes the spark (after all, how can you not be poetic if you love a Vespa?). Obviously a carburetor that allows you to implement this type of reaction thanks to its technical specifications is a carburetor capable of transforming a spark into a fire. And it goes without saying that a fire makes you go more "at full throttle" than a spark.
Electronic ignition
In the world of processing the electronic ignition is that part that replaces the traditional system with points (which gave problems during the ignition phase). This is an extremely practical and immediate solution, largely adopted today by Vespa lovers.
Now that we've given you a general flounder, if you want to elaborate your Vespa give us a whistle!
We have everything you need - including staff who can recommend the best match (which you never know!).
Visit the section dedicated to VESPA ELABORATIONS .