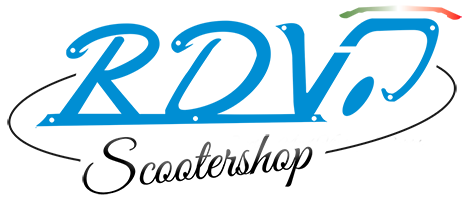 ancora solo €
Spedizione gratuita a partire da €:
Il tuo ordine è senza spese di spedizione!
Spedizione gratuita a partire da €:
(0)
The 4 best spring accessories for your Vespa
To travel in all practicality
Like every year, spring has finally arrived, and like every year it is time to restart our beloved Vespa, not forgetting to equip it with the necessary accessories to make our journeys more comfortable under the first sun! In this article we will therefore see:
The 4 best spring accessories for your Vespa
Useful tips
The 4 best spring accessories for your Vespa: everything is in the details
1. The Satchel
Surely, one of the first things you will want once you take your two-wheeler out of the garage, will be to take it for a nice long ride to enjoy the good weather. No matter what the destination is, a Vespa top box is always an excellent idea: it allows you to store jackets, picnic equipment or helmets in complete safety, saving you the clutter of transport.
2. The Tires
The importance of having adequate tires in the face of the variation in asphalt temperature is often underestimated. A good tire not only keeps us safe in its own way by ensuring proper adhesion of the vehicle to the road, but it is essential to have a comfortable footing on the vehicle.
3. The Neck Warmer
Even if the temperatures are mild, don't be fooled: the neck is enormously exposed to the cold regardless of the use of scarves or turtlenecks, so the use of a professional neck warmer becomes very important. It is a structure lined internally with fleece in order to keep this delicate area of the body warm and with waterproof windproof material externally. Stretching up to the shoulders, it also prevents the entry of cold air through small drafts.
4. Rainwear
As with the aforementioned neck warmer, it is worth noting that we must never be fooled by mild temperatures, especially in years like these where we often find ourselves saying that there are no longer between seasons . If you have a top case, you see the uncertain sky, but you don't want to give up a picnic on your Vespa, then you will find it extremely useful to bring a rainproof set with you to be ready for any eventuality without risking unpleasant colds.
Useful tips
Comfort first of all
We often remind ourselves that having a beautiful Vespa is certainly important, but it is even more important to modulate it according to your needs, also for a matter of safety: so it will be essential, for an ergonomic matter, to select a suitable saddle so as not to create inconvenience in the lumbar area, or equip yourself with a luggage rack to carry objects that would otherwise obstruct the platform risking to alter your balance during the journey. You can find any accessory you need on our online store. Have a good trip!